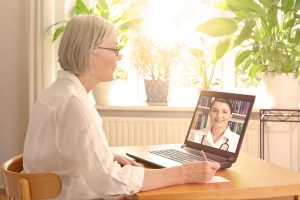 We recommend that you read information below prior to scheduling a visit at the end of this page:
ABOUT OUR VIRTUAL VISITS:
Our virtual visits are predominantly for evaluation of Concerning Skin Spots/ Lesions.
Our Telemedicine Services are live / real- time virtual appointments with the doctor.
All Telemedicine visits are conducted through our HIPAA protected platform called eCLinicalWorks.
All appointments are by schedule only.
If you are having a medical emergency, please do not use this service, and call 911
To have a successful online visit, please use a computer and make sure there is good lighting and a strong internet signal.
Please note that we recommend that you use a COMPUTER (desktop/ laptop) or a SMART PHONE (iPhone or Android) with a working camera and a microphone. The use of tablets is not implemented in our platform yet.
Who can use our Telemedicine services?
Our telemedicine services are only for the ADULT residents of Massachusetts, New Hampshire and Vermont. Both established and new patients can use our telemedicine services.
What type of medical issues are being evaluated?
We focus on evaluation of Concerning Skin Spots
If there are no suspicious features to them, you will be reassured.
If your skin lesion is suspicious for cancer or requires in-person follow-up, then you will be advised to schedule an appointment in person and/ or undergo a biopsy. Depending on your location, it could be at Mindful Medical Care or at another practice near you. (We are happy to recommend one for you).
Is insurance accepted?
Yes, due to coronavirus emergency state, now ALL INSURANCES cover TELEMEDICINE visits.
How can I schedule a telemedicine visit?
Please call 508-444-6989 to schedule a telemedicine visit.
Please note our providers do not text/ email pertinent to any medical issues.
All of your texts and email will be either automated or from a scheduling department and be pertinent to scheduling, and other non- medical issues.
To Schedule a Virtual Visit Please Click Here
View Our HIPAA and Privacy Policy (PP)