Cosmetic procedures are procedures on benign lesions with a goal of improving appearance / increasing confidence.
We specialize in removal of the following skin lesions: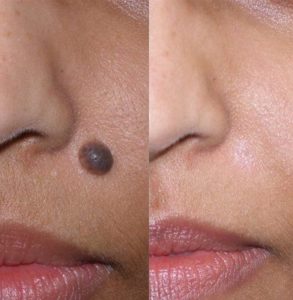 Unsightly moles/ birthmarks
Intradermal Nevi
Non-inflamed skin tags
Brown Spots
Seborrheic Keratosis
Res Spots (Cherry Angiomas)
Sebaceous Hyperplasia
Large milia & more
The removal of cosmetic spots is done via surgical excision or via freezing (cryotherapy or heat destruction) depending on the lesion.
Cosmetic fees are determined by size, location and complexity of removal.
We currently offer a 15% off SPRING SPECIAL on all cosmetic surgical removals
Call 508-444-6989 to schedule a consultation.